Hip OA won't slow me down: An athlete's journey to pain relief
As an avid sports fan with a competitive spirit, Henri has lived a very active lifestyle since he was a teenager. As an adult, he was a high-level soccer goaltender who also played hockey and soccer recreationally.
Even after pain and discomfort started to develop in his early forties, Henri didn't want to slow down, relying on over-the-counter (OTC) medications to ease the pain.
Every hockey season started without pain, but as the seasons progressed, his hip and groin pain became more frequent. For Henri, that meant taking OTC medications regularly, and longer recuperation time during his summers.
Henri had a great sense of humour, but the pain was no laughing matter. By the time he was in his mid-forties, his gait and hip mobility deteriorated. An X-ray confirmed osteoarthritis (OA) of his right hip – a condition that was accelerated by his repetitive movements and passion to continue participating in sports with concurrent pain.
He continued to play hockey, soccer, tennis and ski despite the pain.
Synvisc® provided pain relief from OA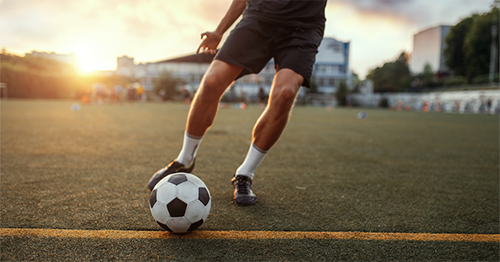 Not one to slow down his lifestyle, Henri consulted a Sports Medicine physician who was able to treat his hip OA pain for four years with Synvisc®.
Henri recalls experiencing relief after his first Synvisc® injection.
"This was a liberating feeling. The years before, when you have OA of the hip…life goes on and all you feel is pain. Having that injection and feeling that liberating moment was amazing."
Henri received Synvisc® injections and experienced pain relief. Synvisc® has been shown to provide pain relief for up to 26 weeks, although shorter and longer periods have also been observed.
He was finally able to pursue his activities with significantly less pain. Even the simple act of sleeping had changed for Henri. Before, he would lie a certain way to avoid pressure on his hip. This, of course, meant that he didn't sleep very well. He would wake up in the morning feeling unrested, which would affect his mood for the day. With the pain relief provided by Synvisc®, he was able to sleep normally and comfortably, boosting his productivity for the next day.
"I was able to move, work, sleep, play with the kids, coach hockey and soccer. I was very active."
Thanks to the pain relief provided by Synvisc®, Henri was able to work and fully enjoy life. Now, he keeps careful watch over his left hip.
For Henri, Synvisc® was a non-surgical option for pain relief. Eventually, once he was ready, Henri received a total hip replacement – a rarity for such a young individual, but a testament to the severity of his osteoarthritis of the hip and his extreme level of activity.
Henri's story continues
After treating the OA in his left hip, Henri found he was experiencing some sharp pains in his right hip which is affecting his mobility.
He intends to consult his Sport Medicine physician soon to discuss a treatment plan. Stay tuned, as his Synvisc® story may continue…
*This article describes an actual case, though the name has been changed.
Did you know?
After receiving hip replacement surgery, patients often wonder whether the other hip will follow the same path – and if so, when?
One study found that among patients who underwent a hip replacement on one side, there was a 37% chance their other hip would develop OA within 10 years, and a 9% chance this other hip would eventually require replacement surgery.

A more recent study estimated that 59% of patients remained symptom-free on their other hip 10 years after replacement of the first hip, and 81% did not have hip replacement surgery on this other hip.
How Synvisc® can help with the pain of OA of the hip
Synvisc® can be used for all severities of hip osteoarthritis – mild, moderate and severe OA.
Synvisc® (hylan G-F 20) is a gel-like fluid, derived from hyaluronic acid, that is used as a temporary replacement and supplement for joint fluid. Made from hylans, Synvisc® is a formulation that mimics the elasticity and thickness of joint fluid (called synovial fluid). It is a temporary replacement and supplement for synovial fluid in the joints. Synovial fluid offers a balance of cushioning and lubrication for your joints.
Synvisc® (hylan G-F 20) is engineered to mimic these qualities, and has been shown to reduce pain from osteoarthritis for up to 6 months. Synvisc® can decrease pain and discomfort, allowing more extensive movement of the shoulder, hip, knee or ankle joint.
Synvisc® is the most widely-used intra-articular hyaluronic acid in Canada, and can be used for all severities of osteoarthritis.
To learn more about Synvisc®, click here.
This product may not be right for you. Consult your health professional.
* Actual case study. Results may vary for each individual.
Synvisc® is only intended for intra-articular use by a physician to relieve pain associated with osteoarthritis of the knee, shoulder, hip and ankle.